Generate Revenue and Gain Intelligence with DestinationCore
THE COMPLETE DESTINATION DIGITAL MARKETING PLATFORM
How should you focus your digital marketing spend moving forward to get even better results - and generate rock solid data that really brings that added value to life?
The answer is DestinationCore.
Designed from the ground up to put you in control of your website, digital marketing and visitor data. DestinationCore collates on-line and on-location data to better understand the relationship between your digital marketing activities and actual footfall. But that's not all. It will also generate revenue for you.
ACHIEVE MORE WITH LESS EFFORT.
Make budgets go further through digital marketing automation.
DestinationCore has several pre-built and add-on features which can help save you time, effort and money by avoiding duplication or automating currently manual tasks.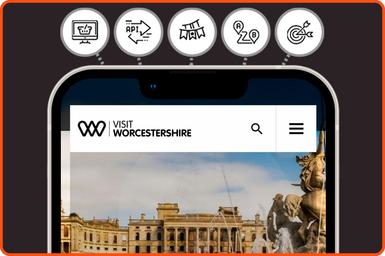 ADAPTABLE TO SPECIFIC NEEDS.
Because no two places are the same.
We know that each individual destination has its own unique personality. All the products in the DC product range come with a number of configurations and design options.
IMPROVE PERFORMANCE.
In-depth analysis, reporting and benchmarking via DestinationCore Insights.
The DC Insights dashboard provides unique on-line and on-location destination performance analysis via an easy to understand dashboard.
GENERATE INCOME.
Create revenue via technical integrations and value-added user features.
Destinations are under increasing pressure to become self-sustaining, that's why we have developed a number of features and products which help you generate income.
BUILD CUSTOMER LOYALTY & REPEAT REVENUE.
Encourage repeat visits and loyalty with a range of user experience tools.
At DestinationCore we know how important it is to encourage visitors back to your destination. We also know the value of increased dwell time and visitor loyalty.
Which Product is right for me?
DC Pro
DestinationCore Pro puts the power in your hands. It combines industry-leading technology with an individually designed platform to reflect your destination's own requirements and unique personality.
DC Enterprise
DestinationCore Enterprise is our most premium product - it has the same brilliant features as DC Pro but with added extras, specifically created to tackle the unique challenges faced by larger scale destinations.
DC Insights
DestinationCore Insights is a unique, in-depth reporting and analysis hub which is home to all your destination data. It provides online and on-location performance data through an easy to use dashboard which informs users how to improve performance.
Just complete the quick and easy booking form below for your free, no obligation demo.
Want to know more about DestinationCore? Call, email or fill in the form.
Will Wright | Managing Partner
will@destinationcore.com
Tel: 0203 780 7187
Jane Petrucci | Customer Relationship Manager
jane@destinationcore.com
Tel: 0203 780 7187