AN ICONIC UK DESTINATION WITH BOLD AMBITIONS
When a client comes to you and tells you they want to win an award for best travel website you know they mean business.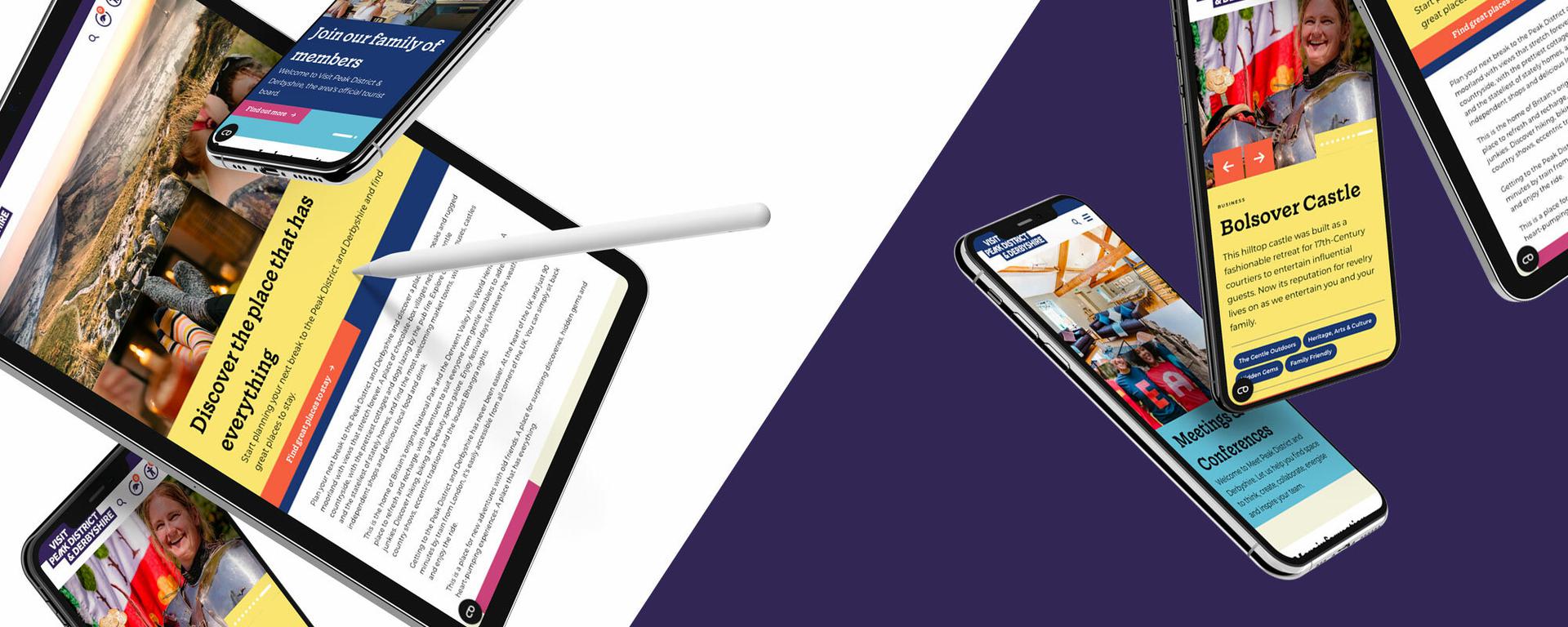 The Problem
To help Visit Peak District & Derbyshire work towards their goal of having an award-winning website we created five clear objectives.
(1) Create functionality which is focused on the needs of the user and surfaces content based on personal preferences which encourages users to uncover content they might not otherwise have found.
(2) Capture the unique personality of the area through aspirational and attractive design inspired by a 'coffee table book' appeal which makes the most of the natural beauty of the area.
(3) Being listed on the website should feel like a necessity for every business in the region because it provides a demonstrable ROI regardless of size or objective.
(4) Create a cohesive and holistic content strategy which delivers a consistent narrative across the digital estate and adapts according to seasonality.
(5) Provide content editors with an easy-to-use Content Management System, which allows them to create, edit, delete, and preview content consistently across all device types. Delivery of the agreed content strategy should feel easy and intuitive.

The Solution
A user focused website experience, with a wealth of content discovery features.
Increasing user engagement to aid visitor conversion was a key objective in the brief, so we introduced a host of content discovery tools so that users can drive their very own personalised experiences. These included:
The Global Categories module which groups together content from across the site into thematic interests.
An accessibility and Sustainability Planning module allowing users to filter the content they see during their web visit to match their own specific accessibility or sustainability needs.
The DC Interactive Map module so users can search for any keyword across businesses, events and trails.
An Itinerary Entry Type feature which provides users with a searchable database of pre-built itineraries to help inspire their visit.
Our DC Trails & Landmarks Entry Type feature which offers a searchable database of the best Visit Peak District & Derbyshire recommended walking, cycling and bridleway trails.
The Location Categories module providing landing pages for each of the key locations to showcase the businesses, events, offers, blogs, itineraries, and trails in the specific geographical area.
Giving members access to update their own listings and content.
With over 600 members, and many with multiple businesses each providing their own special offers and events, populating and controlling content from a small, centralised marketing team is always going to be a challenge.
That's why Visit Peak District & Derbyshire choose to install the DestinationCore Business Login module as part of their package. It offers members access to update their own business listings, as well as the ability to add events and special offers.
Multi-site capabilities.
Using the mutli-site capabilities available in the DestinationCore Enterprise package, in addition to the visit site, we have also created an Industry site and a Meet site, with all three controlled via one centralised CMS.
Availability search.
The Visit Peak District & Derbyshire team had several industry specific technology integration requirements when they first came to us. They were looking to increase automation and avoid duplication.
Their primary concern was the ability for users to perform a site wide availability search for accommodation and experiences. We solved this problem using the DC Availability Search module.

Visit Website
Modules installed include
DC Sustainability Planning

DC Accessibility Planning

DC Conference Venue Search

DC Interactive Destination Map

DC Location Categorisation

DC Cookie Consent Management

DC Availability Search

B2B Website

DC Itinerary Entry Type

DC Business Login

DC Tiered Membership Structure

DC Multi-site CMS

DC Global Categories Module

DC Advertising Module

DC Public Submissions
The Results
Data tracked in the Peak District & Derbyshire dashboard includes:
- Number of accommodation searches and booking intents
- Number of experience searches and booking intents
- Advertising engagement including number of views, clicks, cost per click, cost per view and click rate %
- User engagement with key content including % of users viewing a business directory, event and blog
- Most engaged with content by thematic interest type
DestinationCore Insights is helping the Peak District & Derbyshire team understand, refine, and improve the conversion of online visitors into physical visitors.
"I'D BE VERY HAPPY TO HIGHLY RECOMMEND DESTINATIONCORE TO ANY DMOS LOOKING FOR A NEW WEBSITE AND WANTING TO WORK WITH A DEDICATED, KNOWLEDGEABLE, AND HIGHLY PROFESSIONAL TEAM OF DESTINATION EXPERTS. THE CMS IS EASY TO USE, THE CUSTOMER SERVICE HAS BEEN OUTSTANDING, AND OVERALL WE'RE VERY PLEASED WITH OUR NEW WEBSITE."
Lindsay Rae, Deputy Director, Marketing Peak District & Derbyshire
Want to know more about DestinationCore? Call, email or fill in the form.
Will Wright | Managing Partner
will@destinationcore.com
Tel: 0203 780 7187
Jane Petrucci | Customer Relationship Manager
jane@destinationcore.com
Tel: 0203 780 7187
Stay up to date with DestinationCore

By subscribing to our newsletter